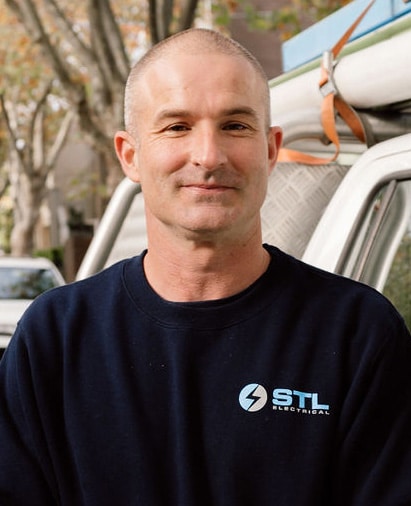 Celebrating Our Customers' Reviews at STL Electrical
At STL Electrical, we're not just committed to exceptional electrical services; we're dedicated to creating lasting relationships with our clients. Our heart swells with pride when we read the glowing reviews from our valued customers. As your go-to commercial electricians in Melbourne, we cherish each 5-star review highlighting our fast, efficient, and seamless service.
Your Feedback Fuels Our Excellence
Your experience matters to us. If you're delighted by our services, we welcome you to share your story. Your feedback doesn't just inspire us; it helps others discover the STL Electrical difference.
Super helpful service. Managed to diagnose and help me with an issue after business hours over the phone without charge. Would recommend and will definitely use again.

Joel Grey


14 November 2023

Great service. Highly recommended.

norman jonkers


11 November 2023

had a problem with mains switch in house- they came over on a friday afternoon- explained the issue- and given was just a switch that needed to be reset he didn't even charge me!! will definitely be using for our electrical work-

Theepan Bala


11 November 2023

I had blown my fuse on a Sunday. After some Googling and failed to flick the switch back on (due to user's panic), I have decided to call STL Electrical for help. They were very responsive and helpful. It was actually a very simple fix so the "repair" was done entirely over the phone. Thanks again.

Daveen Ma


2 November 2023

Amazing service. Simon was super quick to come and his rate was really reasonable, especially for a weekend. Would highly recommend!

Wayne Schowalter


16 October 2023

Symon and the team at STL electrical did an awesome job of requiring my third storey, 1970s apartment. The task was not without curveballs, but Symon was supportive and professional in his approach - and gave me a lot of pointers that were invaluable for my overall renovation. Glad to know I don't need to look for an electrician again next time, highly recommend.

Alex Whitehead


16 September 2023

Great guys, new switch board, fast service.

Justen Rage


16 September 2023

Fantastic out of hours service when our club had a power issue. Highly recommend.

WBTC Secretary


16 September 2023

Super friendly and helpful over the phone (on a Saturday) and could help detect the issue right away. Thanks again!

Mareen


16 September 2023

Simon and the team were great to use on my home and would definitely recommend to others. Super professional, responsive and competitive on price. Will definitely use again!

Josh Bulafkin


16 September 2023

Very happy with the service and quality of work. Could not believe how quickly between initial enquiry to quote to job completed! Would recommend.

Naomi Feather


16 August 2023

Symon (STL) has been our electrician for several years now. He recently did some major electrical work for us, rewiring an old property and installing new power points and light fittings. It was a big job, but Symon and his assistant Jordan completed the work promptly and for a reasonable cost and attended to a couple of follow up matters making sure everything worked exactly as we wanted it to. His assistant, Jordan, is also very hard working and polite. I can't speak highly enough about STL Electrical , I'm just really grateful that we have such an excellent electrician we can call on when needed.

Bronwyn Ure


16 June 2023

I have had to call Simon twice for out of hours help. The first time he attended quickly and cheerfully, sorting out an old fuse in my rental property. The second time he gave me advice over the phone to fix the issue and save me from a callout fee. This man is a legend! I am recommending him to all 😊

Yeliena Hill


16 May 2023

STL Electrical did a very professional job in rewiring my garage including adding internal and external powerpoints and LED lights. I would have no hesitation in using them for any other electrical issues that may arise.

Jack Woods


16 April 2023

Symon was very professional from the first call to the completion of the job. I highly recommend him for any electrical work. 👍

Rob Dandrea


16 April 2023

Highly recommended. Helped us out with a quick job in Glen Iris. Came out on a Sunday after the other electricians overquoted us. Did the job for less than a quarter of the price of the other quote. Really appreciated, thanks

jeremy cheesman


16 November 2022

Symon and the team were fantastic - they responded quickly to my request, did great work at a fair price. They are now my goto for any electical work. I would highly recommend them.

Stuart Webb


4 October 2022

Quick response, friendly and good value, definitely recommend.

Darren O'Brien


4 October 2022

Simon was terrific. Arrived earlier than expected and did a professional job. Very thankful.

Mark Gashi


4 October 2022

Simon came on a Sunday with very short notice. He arrived within 10 mins. He was helpful and completed the task beautifully. Great Bloke as well.

Simon Guest


27 September 2022

We had a lot of work done plus we had a 32 Amp wire installed in the garden shed. Symon was very professional, punctual and efficient. Both he and apprentice Jordan were very polite and friendly (no swearing, loud music or smoking) and they left everything clean. We are extremely happy with the quality of all the work. Care was taken to make conduits and switch surrounds as neat and unobtrusive as possible. The price was very reasonable and Symon was very accommodating of some last minute rescheduling we needed to do. I would definitely recommend them and will use again without hesitation.

Tanudja Gibson


20 September 2022

We had a power outage due to mistake of another business. I called Symon to ask him to come over. He didn't have time; however, he talked me through potential problems and solutions to fix the issue and it worked! It is rare to find an honest and trustworthy trade person that their focus is problem solving rather than getting money out of the client's pocket with every opportunity they find. I highly recommend this business.

Ramtin Tajeddin


20 September 2022

I am not surprised that all reviews rave about the service, professionalism, punctuality and expertise of Symon. He works fast, yet has attention to detail. He is easy to talk to and is funny yet polite. No job too small or big, answers all my curious questions. I have found the electrician I will be coming back to all the time.

Yolanda Casiano


11 September 2022

Simon attended promptly within 2 hours of my call, extremely personable, professional, provided excellent advice, efficient, pragmatic, knowledgeable and a delightful electrician. I would recommend him without hesitation - many thanks Simon! Would not consider using any other electrician in the future.

Janine Rogers


11 September 2022

I had Simon install a new power point in the kitchen, arrived when he said he would and completed the job without fuss leaving everything clean and tidy. Sourced matching sockets so as to fit in with the rest of the home.

tomkelly2452691


11 August 2022

Great service and fast response! Couldn't recommend more

Jessica Godwin


11 August 2022

I had a power emergency at a venue in Melbourne over the weekend and I called Simon at STL Electrical. He answered the phone immediately and let me know he could be at the venue within an hour. As I was not at the venue at the time, he called the teacher who was and was able to trouble shoot over the phone saving us a call out fee. What a legend. We have added him to our contact sheet!

Joanne Swinton


11 August 2022

Symon was very responsive to my initial call and easy to book in a day to fix my light switches which had broken. He was on time, very friendly and professional. I will be continuing to use his services from now on 🙂

Stephanie


11 July 2022

Incredibly helpful and honest. I called for a quote and after explaining the issue, the owner actually suggested that I probably didn't require his services and recommended some alternate ways of resolving the issue myself. This type of genuine professionalism is hard to come by in the trades - I'll definitely be looking to engage this services when I actually need them!

Yiling


11 June 2022

Simon at STL Electrical has been the best electrician we have ever dealt with. Reliable, on time, polite, friendly, efficient and did a great job installing our chandeliers. 100% recommend him to anyone who needs electrical work.

Alisha Khoo


11 March 2022

I was stuck with our normal electrician off the air with Covid!! Called Simon and he was fantastic, at my place first up next day. Excellent quality work, clean and polite!! Highly recommend and would definitely use again!!

Michael Goerner


11 February 2022

When I called Simon at 6:15 am in the morning, he said he won't be able to help me but instead he guided me how to restore my power in a second. He made my day. Nothing feels better than working with someone honest and helpful. 100% recommended

Maz Nabavi


11 February 2022

Excellent electrician, would definitely recommend STL electrical. Extremely responsive, efficient, well priced & professional.

Robyn Thin


11 February 2022

Highly recommend Symon, he installed two new powerpoints from the switch board and was able to fit into our schedule with renovations. Professional, friendly, trustworthy, and excellent workmanship

Evan Jaksa


11 February 2022

Highly recommend Simon. Very professional, friendly and provides an excellent service.

robyn douglass


11 January 2022

Simon was professional and responsive. He was timely with his quote, turned up on time and completed the job quickly with no mess.

Campbell Logie-Smith


11 December 2021

Symon replaced our old switchboard and was knowledgeable, professional and friendly. The whole service was fantastic start to finish! We will be using Symon again in the new year for some rewiring and would highly recommend him to anyone and everyone!

Rebecca -


11 December 2021

Symon did an excellent job. Very prompt to respond and easy to work with. Very sincere and genuine, also assisted my parents fix a long standing issue. Highly recommend Symon for your electrical needs.

Tom F.


16 November 2021

Symon did a fantastic job. Arrived when planned. Worked quickly and cleanly. Had a good eye for detail spending time making sure all of the power points aligned. Cleaned up at the end. Cant recommend him highly enough

John Cornish


16 November 2021

Symon was super responsive and came out to solve my lack of power on a Sunday morning. He was efficient, isolated the problem and explained the whole situation to us. Absolutely would recommend his services.

Amy


16 November 2021

Symon is very professional, courteous, efficient and charges reasonable prices. Its hard to find tradesmen that bare all of these qualities so will definitely be using Symon's services again and make no hesitations in recommending him.

Brendan Williams


16 November 2021

STL Electrical Services is a company I will definitely be recommending to friends, family and colleagues. Simon was very professional, I could not fault his punctuality and he was very happy to undertake such a small request to repair a couple of lamps at a great price. Fantastic service, I will be using STL services again!

Elizabeth Oxley


16 November 2021

Symon from STL Electrical came out when we lost power and circuit breakers were tripping at 9pm, after hours call out was there in 15 mins and found the cause of the problem and got us sorted in a timely manner, quick, efficient, punctual and very professional. Rates were competitive amongst other quotes we had for an emergency call out. Will get more work done by Symon in the near future. Would recommend 110% Thanks again!

Jason Veal


16 November 2021

I used STL Electrical services to install a heat lamp, bathroom & powder room ventilation systems, upgrading powerboard and socket installation. Symon was extremely knowledgable and gave professional advice. Awesome service and excellent response time. Everything was completed in a quality manner. I had a fantastic, efficient and hassle-free experience and I would highly recommend to anyone needing electrical services to contact Symon and his team.

B H


16 November 2021

Great service, highly recommend for any emergency electrical work

Peter Pham


11 November 2021
Join Our Community of Satisfied Customers
Be a part of our story. Explore firsthand why our clients consistently rate us with five stars. From the first call to the final touch, experience the dedication, professionalism, and expertise that define every STL Electrical project. We invite you to share your journey with us and join our growing family of satisfied customers.

For garden lighting, smoke alarms and more in Melbourne