It can be frustrating when you need hot water and your hot water system suddenly stops working. Imagine taking a shower during the winter months when your water suddenly becomes cold!
No need to wait the next day to call for hot water system repair. STL Electrical is available 24/7 to address all your hot water system emergencies. Most people are hesitant to repair their hot water system because of the cost that may be associated with it. If you live in the south east Melbourne area, give us a call and we'll give you an honest and fair quotation.
Electric Hot Water Systems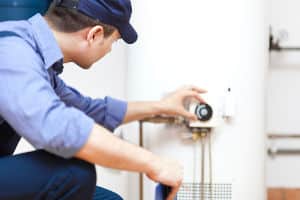 An electric hot water system is an efficient and cost effective way to enjoy hot water on demand. The way it works is that it generates heat from electricity to heat the water, which is then passed through your home's radiator network and heats up the tap water in your entire house. As a matter of fact, when you turn the faucet on, water gets hot in less than 10 seconds. This will save you time and money since you don't need to keep your water running while waiting for it to heat up.
Other benefits of an electric hot water system include:
Easy to install: Electric hot water systems are pretty straightforward to install and can run efficiently. Units can be installed in as little as fifteen minutes. All rooms will have their own temperature control with water staying at a constant temperature at all times. But unlike the traditional water tank heater, it only takes little energy to maintain constant water temperature.
Efficient: One of the major benefits of electric hot water systems is their ability to heat water fast. No need to stand there and let the water run for a couple of seconds before it heats up.
Money saver: Though this type of heater costs more than the traditional one, it's more durable so you can make the most out of it.
Easy to repair: Since there are no moving parts, electric hot water systems are quick and easy to repair. Call STL Electrical and we can get it done in no time.
Rheem Hot Water Systems
Rheem hot water systems offer a wide range of water heaters – from tank and tankless to high water delivery and low energy cost, Rheem has options you'd love. There's even a smart Rheem hot water system with mobile leak alerts feature that can notify you if there's a leak, helping you avoid any water damage.
Dux Hot Water Systems
The Dux hot water system has large electric, gas storage, heat pump, and solar heaters that are perfect for residential and commercial use. Some of their products include:
Ecosmart solar hot water systems, which offer high efficiency for reduced running cost and big rebates.
Airoheat air sourced heat pump, which are environmentally friendly water heaters that don't require solar panels.
Proflo large electric storage systems are tough water heaters that have a ten year tank warranty.
Rinnai Hot Water Systems
The Rinnai hot water system launched Australia's first fully electronic gas continuous flow hot water systems. It was a great innovation that provided people the peace of mind by knowing that their hot water would never run out. Rinnai also offers:
Hot water storage systems, which are perfectfor replacing your existing storage tank installations. It comes in a variety of sizes.
Solar hot water systems are a range of highly efficient solar hot water systems that help reduce carbon footprint. To guarantee constant hot water supply during the not so sunny days, a gas or electric booster is added to the system.
Vulcan Hot Water Systems
The Vulcan hot water system prides itself on having high quality and excellent performance hot water systems at a very affordable price. Their hot water systems are available in gas and electric and come in a wide range of sizes, depending on your family's needs.
Instant Electric Hot Water System
When you require a continuous flow of instant hot water, installing an instant electric hot water system is always a great option. Tankless systems, also known as instantaneous or demand-type systems, provide you with a constant and convenient flow of hot water as soon as you turn on the tap. The greatest benefit to installing an instant electric hot water system is that because there's no tank, you'll enjoy hot water for as long as there is electricity to heat the water flowing through the system.
If you're looking to install an instant hot water system or need to repair your existing one, STL Electrical is the company for the job. With 20 years of experience under our belt, we can provide you with an instant hot water system that will suit your needs and help you with the entire installation process. Give us a call and we'll give you a fair quote.
Gas Hot Water System Installation and Repair
Efficiency, cost, and convenience are some of the advantages of having a gas hot water system. In case of a power outage, you don't need to worry about not having a hot water supply since your gas is not affected.
STL Electrical installs and repairs both electric and gas hot water systems in the south east Melbourne area. Our experienced electricians are available 24/7 to assist you with any gas hot water system emergency you may have.
Installing a gas hot water system by yourself can be dangerous so leave this job to the professionals. A lot of things can go wrong such as wrong size of gas hot water system bought, tap valve not installed properly, or incompatible metal pipes used.
Call STL Electrical and give yourself the peace of mind knowing that your gas hot water system will run smoothly. We also specialise in hot water system repairs. Our certified electricians are available 24/7 so if you encounter any hot water emergency in the middle of the night, rest assured that you can count on us.